Greetings
Welcome, visitors!
Korea chemical fiber industry has played an important part in the country's economic growth as one of leaders of the domestic textile industry. The chemical fiber industry became the world's fifth largest chemical fiber producer and items like spandex and tire cord etc. are first in terms of global market share. Based on these excellent chemical fibers, the industry contributes to the increase in exports.

Now, Korean chemical fiber industry is expanding into fibers for technical use as well as high functional garment. By developing convergence materials with 6T, the industry has been creating new uses in various fields such as automobiles, shipbuilding, aerospace, medicine, construction, ocean, electronics and sports etc. In addition to this, the industry continues to gain ground in the R&D area of various environment-friendly materials which enable the industry towards sustainability.

For many years to come, Korean chemical fiber industry will keep on trying its best for
the better living quality of humans and brighter future of textile industry by pursuing
win-win growth, maintaining technical innovation and developing new products.

Again, it is a pleasure to welcome all visitors to our website.

Thank you!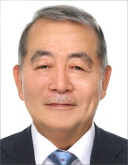 Chairman of Korea Chemical Fibers Association